!- This page and graphics developed by Pixel Twister Web Design, CONTACT INFO: Keith Marang, E-mail: sales@55-57chevys.com ->
Central Oklahoma Classic Chevy Club

1958 Chevrolet Road Test (Page 2 of 2)

The new V-8 in the Impala test car was equipped with the standard four-barrel carburetor. (An optional three two-barrel carburetor system boosts horsepower from the standard 250 to 280.) Although larger than the 283-cubic-inch V-8, the new engine is quite compact for its displacement. It's just 30.55 inches high, 26 inches wide and 30.1 inches long.
Plugs are mounted above exhaust manifolds, making removal much easier. The battery is up front, at right, where it is easy to service and gets the benefit of cool air. The distributor is at the back of the block, in the valley between the two banks of cylinders.

Fuel pumps are buried, will have to be serviced from underneath. Screw-out replaceable oil filters can be removed easily with the car on a hoist.

The engine design itself is somewhat unconventional. Combustion chambers are formed in the block, not the head. Top face of each cylinder bank is cut at a 16 degree angle, not machined perpendicular to the bore. Piston tops are also made with 16 degree sloping surfaces, giving them an arrow-like appearance. This permits use of large valves (1.94-inch diameter for intakes, 1.66 diameter for exhausts) and placement of plugs near the center of the chambers for short flame travel and minimum possibility of detonation.

Bore spacing is a comfortable 4.84 inches center to center, leaving room for larger bores and greater displacement from this block in the future.

All-out performance fans probably will prefer the close-ratio three-speed manual gear box. This standard gearbox has a first gear ratio of 2.21-to-1 and second gear ratio of 1.32-to-1 and is used with a lower rear axle ratio than on Turboglide models (3.55 as compared to 3.36).

Turboglide is certainly one of the smoothest automatics on the market and is the ultimate of simplicity in operation. It has only one forward and one reverse drive position, together with Grade Retarder position which can be used for extra braking down hills. The three turbines with their variable-pitch blades completely eliminate feel of shift points in the torque converter unit. With the lever in drive position, the car starts from a standstill and accelerates up to any given speed in one smooth, continuous flow of power. There is never any lurch to indicate a shift point as there is with most automatics.

Lack of ability to downshift manually to a lower gear for a corner was noticed during test runs, however. The Grade Retarder position is no help in this because it has been designed so the engine and transmission windmill almost uselessly if attempts are made to accelerate in this gear.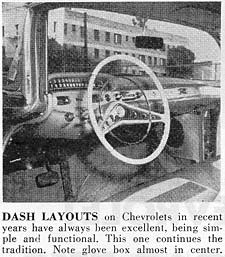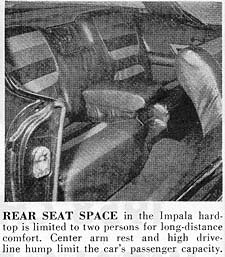 Both Impala models have only 38.1 inches of rear seat leg room, compared to 42.8 inches for four-door sedans. The convertible has only 48.4 inches of hip room in the rear seat, compared to 54.5 for the Impala hardtop and 63.2 for four-door sedans!

So if you want the sporty looks of the convertible you must be prepared to sacrifice rear passenger comfort. Actually both Impala models must be regarded as 4/5 passenger cars, due to restricted rear seat quarters and the fact that the drive tunnel comes up fairly high both front and rear. For all practical purposes, the rear seats will accommodate only two in comfort -- and two will be much more comfortable than three up front on long trips.
Return to "Memory Lane" index.