!- This page and graphics developed by Pixel Twister Web Design, CONTACT INFO: Keith Marang, E-mail: sales@55-57chevys.com ->
Central Oklahoma Classic Chevy Club

1961 CHEVROLET IMPALA
CAR LIFE ROAD TEST
(Page 2 of 2)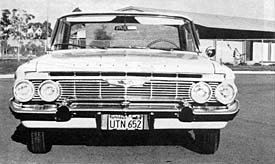 The Turboglide transmission is just one of a total of five options available to the Chevrolet purchaser, with the other choices being 3-speed manual, 3-speed manual with overdrive, 4-speed manual, and of course the perennial Powerglide. There are some interesting points about this profusion of options: the 4-speed is available only with the 348 cubic inch engines, which need its closely-spaced ratios far less than the 283 cubic inch engine; and the Turboglide is offered with engines only up to 280 bhp with a "Heavy Duty Powerglide" being the automatic trans option in the higher-powered versions.
A transmission modification for '61 that makes a lot of sense is the changing of ratios in the 4-speed transmissions for passenger car installations. Instead of the Corvette-bred 2.2:1 first, 1.66:1 second, and 1.31:1 third, these boxes will have a 2.54:1 first, run 1.92:1 in second, and carry a 1.51:1 third gear ratio.

Inside, the '61 Chevrolet is as imposing as ever, with this particular series (Impala) being the most luxurious of the entire line. Addition of a 2-door sedan to the Impala series this year gives just this one series of Chevrolets full model coverage, almost like a make unto itself. This is interesting sales strategy when you take into account the fact that Pontiac's President Knudsen was quoted not
so long ago as saying their most popular car was the "economy priced" Catalina series. Perhaps Chevrolet is reaching up a notch with this expansion of the Impala line.
Instruments are now contained within a console that may be removed as a single unit for maintenance, although retaining the option of individual instrument removal in instances where that is more convenient. Aside from theoretically saving the car owner some labor charges (on an actual time basis) when such work is necessary, there's little worthy of comment about this. We'd still prefer an ammeter and an oil pressure gauge instead of colored lights, console or not.

Quality of fit, finish and general workmanship still seem to be something that Chevrolet has been able to reconcile to mass production better
than many of its competitors. This, along with the "big-car feel" that always accompanies the triumvirate of power steering, power brakes, and automatic transmission, gave the impression that, unless you noticed the nameplate before entering, you could just as easily be riding in one of GM's more expensive offerings instead of one of the least. We're willing to bet that very few average car-owners could walk down the assembly lines at Cadillac and Chevrolet knowing which car was which until they got to the point where the bodies were installed. Without styling clues, it could be difficult for the layman.
| | |
| --- | --- |
| Of primary interest only to the ladies, to remain competitive, color-wise, in the styling competition, Chevrolet has a total of 15 colors available for '61, of which only five (silver, red, gray, black, white) are carryovers from '60. A feature that's sure to be appreciated by both sexes is the addition of an ignition switch key position marked ACC for accessory operation with the engine shut down. | |
| | |
| --- | --- |
| | Aside from minor niceties such as these and the others already enumerated, Chevrolet for '61 continues along the same lines as have the many preceding models since days of yore - basic transportation if you so desire, yet with sufficient options available to offer a car fulfilling the American dream of luxury on wheels to an extent that shamelessly competes with its higher priced cousins. |
Return to "memory lane" index.